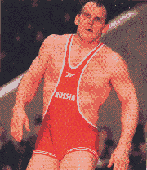 KARELIN ALEXANDER ALEXANDROVICH
No. 2 of Edinstvo. Holds a title of a "Hero of Russia", nine times world champion, three times Olympic champion, sports guru in classical wrestling, high ranking tax police officer.
He was born on September 19, 1967 near Novosibirsk, Siberia. Since 1987 he hasn't lost a single fight on the sporting arena, won his first gold medal in 1988 in Seoul in the age of 20.
In 1996 he won his third Olympics in Atlanta and was awarded a title of the "Hero of Russia". In 1998 earned a Ph.D. in Academy of Sports in St. Petersburg, Russia. He is the founder of a Russian Youth Club of Classical Wrestling.
Served in Russian National Guards, Russian Tax Police.
Currently he is residing in Novosibirsk, married, has two sons.